Sorry I've been away for soooooo long!
I know I've said I was going to have a really busy week, which I did, but as life, like always never turns out the way it's been planned.
I've been busy preparing my portfolio for the last week for an architecture firm based in Sydney called Tanner Architects. Tanner Architects is a multi-disciplinary practice that brings together the skills of contemporary architecture, adaptive re-use, interior design, urban design and strategic planning. Progress on my portfolio is really, really slow, as for some reason I don't have a lot of my work on file? Why I don't have a lot on file, I have no idea, but the process of putting this portfolio together is totally stressing me out! I really hope this interview works out, as I am so totally eager to learn and work in my chosen field.
So going through my previous assignments, I stumbled across and old multimedia project I did. It was based on Hotel Fox in Copenhagen. Hotel Fox contains 61 rooms, its interiors are designed by 21 amazing and greatly talented graphic artists. Every single room has a different interior decor, from street art to Japanese Manga to just crazy spaced out imagination, which will definitely inspire awe. I thought I'd share this hotel and its amazing rooms with you.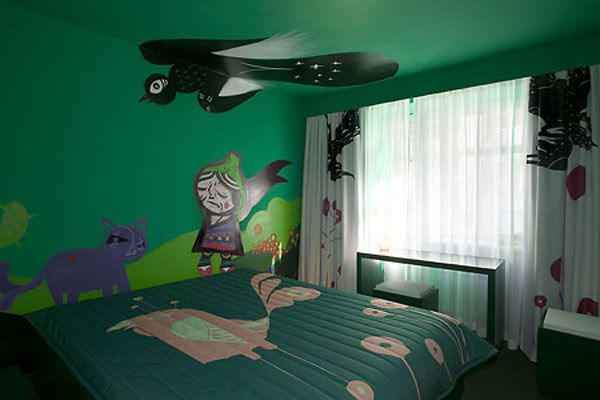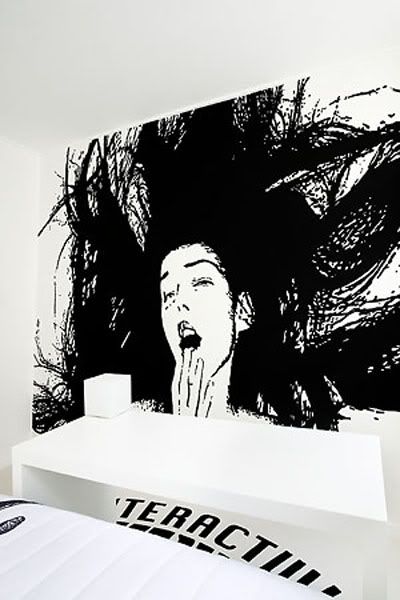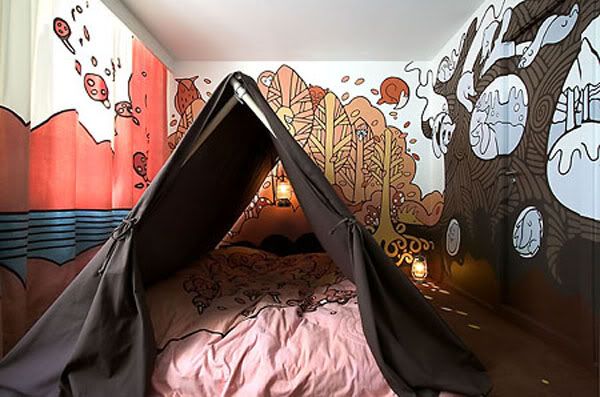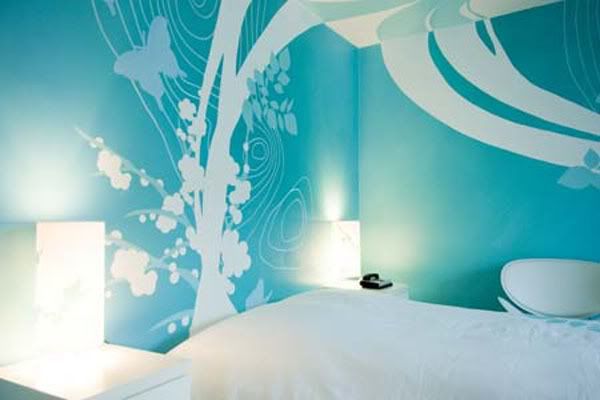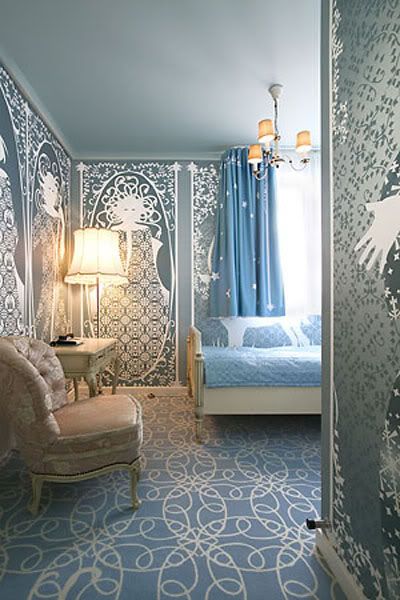 1. Llama Boy by Speto from Bazil
2. Look At by WK interact from France
3. Sleep Season by Rinzen from Australia
4. Ecstacy by WK interact from France
5. Japanese Garden by tokidoki from Italy
6. Two Swans (Fertility Shrine) by Friendswithyou from USA
7. Monday by Kim Hiorthoy from Norway
8. Strong Enough by Speto from Brazil
9. Cultivated Nature is More Fun by Hort from Germany
10. Spring Groove by Anke Vera Zink from Germany
11. King's Court 2 by Brigit Amadori from Germany
I particularly like Sleep Season by Australian design collective Rinzen. It makes you feel like you are out in the woods and bringing the outdoors in with their adorable tent/tepee bed design. It kinda takes you back into the book Where the Wild Things Are and flares up all your childhood imaginations. Which ones are your favourites?
There are plenty more rooms to view at the Hotel Fox website which you will find by clicking
here.
They have some amazing designs and artists that are definitely worthwhile checking out.
Hope you guys enjoyed this post
X